Everything businesses and communities need to know about the White House TechHire initiative for workforce development
In 2015, the White House launched the TechHire Initiative, a move to give Americans new pathways to middle and high skill jobs with good wages. TechHire empowers the middle class by making technical training affordable and accessible. The initiative connects Americans to both traditional and nontraditional educational resources. This includes a mix of accelerated learning programs like coding bootcamps, on the job training, and other innovative channels for learning.
When the initiative initially launched, 20 regions with over 120,000 open technology jobs and over 300 employer partners in need of a talented technical workforce, joined the TechHire initiative. To date, there are more than 60 TechHire communities across the United States training individuals for jobs in the advanced manufacturing, technology and healthcare industries.1
This guide is designed to help employers, citizens, students, economic developers and communities across the United States understand, implement and benefit from the White House TechHire initiative.
This guide to using the White House TechHire initiative includes:
Understanding the Technology Sector's Fast Growth
What is TechHire?
How many TechHire communities are there, and where are they?
How are communities using the Initiative?
The benefits of being a TechHire community
How your business can benefit from the TechHire initiative
Before we get started, you may be wondering: why did the TechHire initiative begin by targeting the technology sector? Let's take a quick look at the numbers.
1. Understanding the technology sector's fast growth 
For five years, the United States has sustained the longest running streak of continuous private-sector job growth in the nation's history. Due to this significant economic growth, there are more job openings than ever before. Over 600,000 of these unfilled jobs are IT positions, which offer good salaries.
According to the Bureau of Labor's most recent projections, Computer Systems Design and Related Services is expected to grow by 38.3% by 2024, making it one of the top three fastest-growing fields.2 But what kinds of jobs fall under that field?
Demand for Network Systems and Data Communications Analysts is expected to grow by 53.4% over the next eight years, closely followed by Computer Software Engineers at 44.6% and Computer Systems Analysts at 29%. For people who have an eye for design and enjoy solving problems, web development is also a popular and fast-growing professional field. By 2024, the Bureau of Labor anticipates web development jobs to rise by over 26%.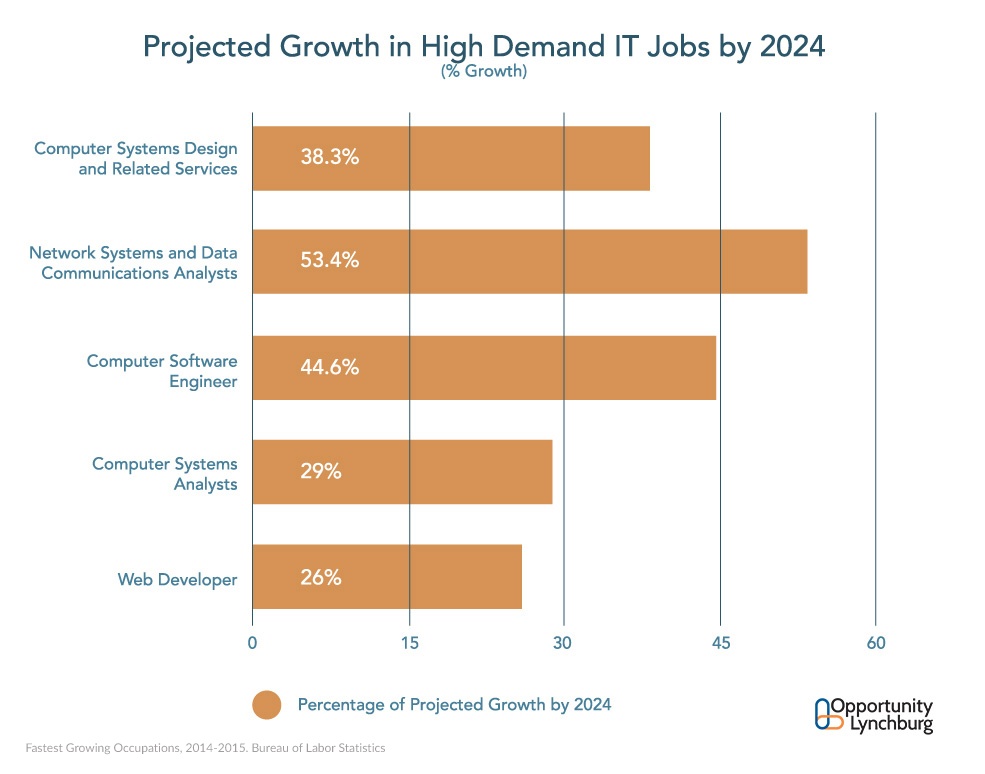 Increasing demand for technical skills in the workplace
Technical jobs continue to be in high demand. In fact, there are over half a million unfilled jobs in IT in the United States today. And, believe it or not, these positions are not just in Silicon Valley either. Companies across the country are in dire need of software and web developers, user interface design experts, project management, coding and cybersecurity. From healthcare, engineering, financial services, and transportation to local government – there are plenty of job opportunities out there for people who have advanced degrees in computer science and information technology.
The problem is, many of these jobs require technical expertise and high levels of training. Many Americans face significant barriers to attaining the education needed to pursue well-paying jobs in technical fields. TechHire was designed to help train Americans and connect them to these roles to access better-paying jobs and more employment options. In addition to relying on traditional academic pathways, TechHire communities now have the support they need to help facilitate training to develop their workforces' talents more quickly.
Why are more people working in IT jobs?
IT is a stimulating and rewarding field that is in high demand. Many roles involve problem-solving, communication and critical thinking. IT and computer science jobs tend to pay well, also. Most jobs related to computer systems analysis and software development offer salaries ranging from $60,000 to over $100,000 annually.3
Many of these well-paying positions require Bachelor's degrees in Computer Science or another related field, however, accelerated learning programs like coding camps are causing these occupations to become more attainable. TechHire is in place to help support communities in the United States build educational opportunities to equip their workforce with in-demand skillsets.
---
2. What is TechHire?
TechHire is an initiative spearheaded by the National Economic Council. TechHire launched in 2015 when the White House announced its commitment to make a $100 million available through the U.S. Department of Labor to support the growth of the tech economy. This new workforce development initiative supports innovative approaches to helping lower skilled workers along the fastest paths to well-paying information technology and high growth jobs in industries like healthcare, advanced manufacturing, financial services, and other in-demand sectors.
The White House supported this initiative because of its expected impact on the economy as a whole.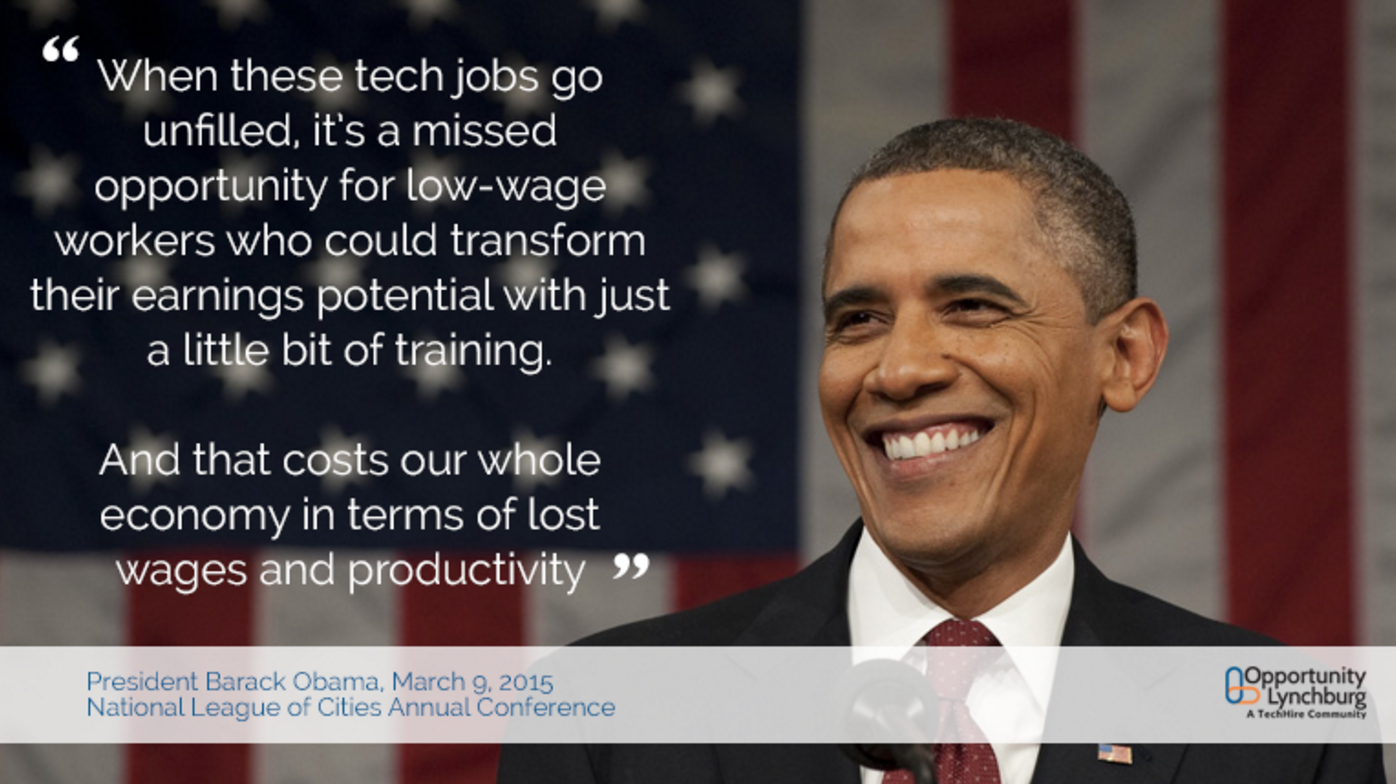 When technical jobs are unmet, companies tend to outsource development and IT jobs to workers in other countries instead of using American talent. 
Through TechHire, employers will have access to a larger talent pool of skilled local workers, and Americans – regardless of formal education – will have the opportunity to access higher-paying technical jobs. By connecting workers to both academic and non-traditional hands-on training, TechHire benefits businesses and employees while strengthening the nation's economy.
To ensure that this initiative outlasted any political changes in the federal government, the TechHire program was transitioned out of the White House and to Opportunity at Work, an organization dedicated to rewiring the American labor market. 
How the TechHire Initiative will help fill a gap in our economy
According to a study conducted by the Organization for Economic Cooperation and Development, 16 percent of Americans between ages 15 and 29 are unemployed and are not pursuing education or other training. That means over 51 million youth and adults in the United States are statistically more likely to be unemployed later in life.5 Youth unemployment poses larger challenges and leads to steep income inequalities across the nation, according to the International Monetary fund.6 TechHire will help this 16 percent attain well-paying jobs quickly via accelerated educational pathways.
Americans with disabilities also face staggering unemployment statistics and are twice as likely to live in poverty. Only one-third of working age Americans who have disabilities were employed between 2010 and 2012. To help close these workforce gaps and empower both unemployed youth and adults and special populations, including:
Individuals with disabilities
Individuals with limited English language proficiency
Workers with criminal records
People who face other significant barriers to accessing training and employment opportunities
---
3. How many TechHire communities are there, and where are they?
When the program initially launched, 20 regions with over 120,000 open technology jobs and over 300 employer partners in need of a talented technical workforce joined the TechHire initiative. These communities are now part of a network that includes 71 communities across the country.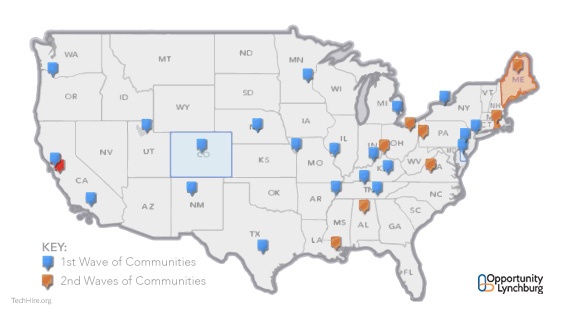 "We're expanding our TechHire initiative to 10 new cities and states — bringing together employers and local governments to create newer, faster training pathways, like coding bootcamps, so that a move diverse group of workers can get hired or start a business of their own," said President Obama, on White House Demo Day, August 4th, 2015 when the City of Lynchburg was designated as a TechHire community.1
---
4. How are TechHire communities using the initiative? 
How are communities using the White House TechHire initiative for workforce development? Here is a snapshot of what's taking place in 10 communities – both big and small – from coast to coast.
TechHire Community: Lynchburg, Virginia
The first TechHire community in the Commonwealth of Virginia, Lynchburg has committed to training and providing paid apprenticeships to 50 people by the end of 2017. They've partnered with employers, including 434 Marketing, Wegmann USA, LSC Communications and many others to connect citizens who are willing and able to work to open jobs. Non-profit partners like Humankind and Miriam's House are referring job seekers who are willing to learn a new trade. 
The City of Lynchburg's Economic Development Authority, Opportunity Lynchburg, is coordinating a TechHire working group that meets quarterly to steer the initiative locally. This group includes employers, non-profit representatives, and training providers. Want to get involved in Lynchburg, Virginia? Click HERE.
Portland is working with local employer partners, such as Square Space, Metal Toad and Portland General Electric to find ways to fill 2,400 technology job openings. TechHire also supports Code Oregon, which is an initiative that is dedicated to training 10,000 Oregonians how to code. Portland is making new commitments to offer 100 on-the-job training opportunities and 50 paid internships. 
The City of Oakland is committed to place 400 workers into paid internships or full-time jobs by the end of 2015 through the #YesWeCode initiative and an investment of $5 million into the Oakland Unified School District by Intel. Pixar and SAP are also investing in computer science programs in schools to expand local hiring pipelines in Oakland, California.
San Jose aims to train 1,000 individuals to help fill apprenticeships, internships and job placements at leading Silicon Valley employers, including eBay Inc., Facebook, Inc., Symantec Corporation and more. The City is partnering with a range of local nonprofits and organizations to launch accelerated training programs in web development, software programming and network administration. The city has also secured $2 million to drive the initiative with a focus on women, minorities and youth.
Salt Lake City is developing a model for job training based on "Learning Paths" to help connect employers with education providers and underserved residents who do not currently have access to technical training.
The LA HI-TECH regional consortium helps 4,000 high school and community college students attain technical skills. It includes eight community colleges, 30 high schools and 100 employers.
Memphis is working on a range of programs, including the Workforce Investment Network (WIN), that connects eight Memphis businesses to create internship and apprenticeship placements that will help 50-75 underserved students access accelerated certification classes. Memphis is also launching a marketing effort to establish a wider network of women, Veterans, low-income community citizens, and youth in IT career paths.
New Orleans plans to train 80 youth in under-represented populations for entry-level coding jobs by Summer 2016. The city is offering 4 to 12-week accelerated training courses, including a partnership with Hack Reactor. By working with local companies, such as Ochsner Health Systems and Geocent, the city is developing new technical employment pathways for its residents.
The city launched Talent Albuquerque in September 2013, and currently engages with 300 local employer partners to fill at least 5 percent of available IT jobs. The city aims to expand these programs and is investing $200,000 in its 2016 budget to fund Talent ABQ.
The NYC Tech Talent Pipeline uses $10 million in industry partnerships with over 100 employers, including Microsoft, Verizon, Google, Facebook, AT&T and Etsy. This pipeline includes initiatives, such as a partnership with the City University of New York (CUNY) system to connect college students with paid internships. The NYC Web Development Fellowship Program, on the other hand, is designed to train 18-26 year olds who do not have a college degree through a partnership with the Flatiron School.
Other TechHire communities include:
---
5. The benefits of being a TechHire Community
In Lynchburg, Virginia, Opportunity Lynchburg applied in partnership with a mix of nonprofits, employers and educators. The TechHire program was initiated by the Lynchburg Economic Development Authority and is coordinated by the City of Lynchburg's Office of Economic Development team. It's important to engage with partners in a wide range of sectors and sizes. This is especially important when it comes to employers. Employers must demonstrate engagement and understand how this partnership will help their business attract qualified local talent.
In Lynchburg, our program aligns with the five core goals of the national TechHire initiative:
Expand access to accelerated learning options. 
These include "bootcamp" style programs, online training and programs based on competency. The goal is to train individuals with the skills needed to get a well-paying job within three months to two years.
Help workers complete training.
Specialized training strategies and supportive services are recommended, as they improve the likelihood that trainees will complete the training.
Help trained workers access paid internships, apprenticeships or job opportunities.
These programs should be set up for workers who complete the training, but are being overlooked by employers. Internships and apprenticeships give trained workers the opportunity to demonstrate their skills and gain hands-on knowledge.
Design your plan for your stakeholders.
Your programs and services need to reflect the needs of your employers and participants with a customer-centered design.
Demonstrate the ability to adapt to changing market needs.
Your program must be sustainable, flexible and innovative.
Supportive initiatives for TechHire communities:
There are currently three main partners that have committed to helping communities achieve their TechHire goals These include: Opportunity@Work, Capital One's FutureEdge initiative, and #YesWeCode. 
OPPORTUNITY@WORK
This civic enterprise connects policy with actionable plans that connect private and philanthropic partners to design accessible tools to increase employer commitments and inclusive hiring practices. 
CAPITAL ONE'S FUTUREEDGE
By collaborating with Opportunity@Work, this $150 million investment will help build technical skills to meet growing employment demand. Capital One is also driving a competency-based hiring approach for coding and programming jobs through a partnership with HackerRankX.
#YESWECODE
This initiative is committed to extending $10 million in coding bootcamp scholarships for underserved minorities over the next 10 years.
---
6. How your business can benefit from the TechHire initiative
Businesses with unfilled IT, advanced manufacturing, and finance jobs may want to consider training a job seeker. The benefits of hiring someone willing and able to work? They're motivated and eager to gain hands-on experience. These individuals have invested a lot of time into learning the soft skills required to be a great employee, and they want to put them to work while gaining valuable experience in the field. In the case of a technology based job, it's rare for a new developer to walk out of coding bootcamp and be able to tackle challenging engineering tasks, which is why paid internships, apprenticeships and entry-level  jobs are so critical to a worker who is new to a high tech field.
Businesses that want to train individuals without a skill, but who are willing and able to learn, need to establish a good working environment where they can learn and, most importantly, grow. The fact is, that not everyone who learns a trade will be the top performer in your company. That said, the only way to discover who will develop the skills needed to grow into more demanding roles, is to invest in their talents. How do you do this? Assign them tasks that extend beyond basic job duties. The best way for a apprentice to grow is to experiment and try solving new problems. By giving your workers opportunities to challenge themselves, you're developing a more valuable workforce. Employee training and coaching is worth the investment for many businesses.
---
Sources:
1 TechHire Locations. Accessed on: Jan. 1, 2016
2 Bureau of Labor Statistics. Accessed on: Jan. 1, 2016
3 CNN. Accessed on: Jan. 1, 2016
4 TechHire Application. Accessed on: Jan. 1, 2016
5 OECD Data: Youth and the Labor Market. Accessed on: Jan. 1, 2016
6 IMF – Generational Data. Accessed on: Jan. 1, 2016