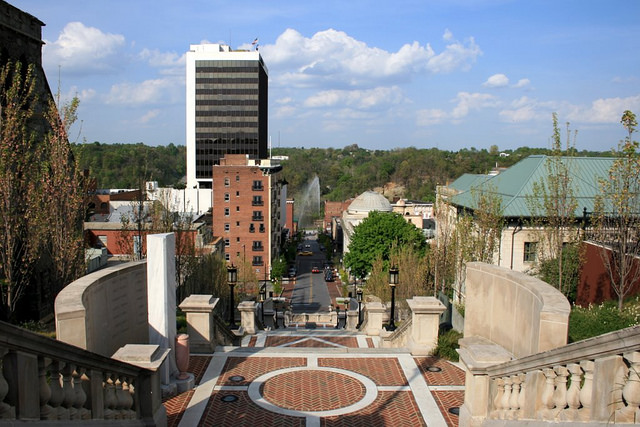 There are many reasons why you may consider relocating your business to Lynchburg, VA. Hundreds of businesses are already moving to the area or starting up in the region, in part because this city in the foothills of the Blue Ridge Mountains has a great deal to offer.
So what exactly does Lynchburg have for your business?
1) Growth opportunities
Lynchburg is a booming place, and when you relocate your business to Lynchburg, VA, you can take advantage of that. The current population of the city is 77,874, an increase of 19.3% since 2000. The city continues to grow, which means more potential customers and a larger workforce for your business. And it's not just the population that is growing. In 2014, programs offered by the Office of Economic Development helped Lynchburg businesses create 369 jobs, retain 892 jobs and invest $31.2 million in new capital in the City.
2) Low cost of living
The cost of living in the region is 8.5% lower than national average. This can mean significant savings, especially for larger organizations. For instance, American Electric Power (AEP), which services Lynchburg, offers commercial rates that cost less than 96% of the utilities in the rest of the country.
3) Tax advantages
There are tax advantages at both the local and state levels. Virginia has a 6% corporate income tax rate (unchanged in four decades) and low taxes for corporations as well as low unemployment taxes. There is no need to worry about Net Worth or Franchise tax in Virginia and the state offers incentives for investment and job creation. Sales and use tax is 4%, so it's no wonder that Virginia has been ranked the fourth state in the country for business competiveness. Local taxes are also low and Lynchburg offers incentives for investment and expansion.  
4) Location, location, location
Location doesn't just matter in real estate.  Lynchburg is easily accessible and centrally located, only 180 miles from the nation's capital. The city is within one hour of Interstate 64 and Interstate 81. Lynchburg Regional Airport has commercial flights daily as well as facilities for corporate and chartered flights.
5) A workforce to count on
If you're looking to hire locally, there's more good news about Lynchburg: the city has one of the highest ranked school systems in the state and an educated workforce. The city's six colleges and universities with a myriad of academic and technical programs and the local online school – one of the largest its kind in the world – mean that there is a steady stream of eager graduates interested in joining your team.
6) A business-friendly economy
Lynchburg is very welcoming to new businesses, so if you want relocate your business to Lynchburg, VA you will not only be in good company, but you'll have access to a wide range of resources that can help your organization get settled.
The city is already home to 3,500 businesses including tech, health care, educational services, biopharma, finance and insurance, construction, chemical manufacturers, printing, furniture and textiles, advanced manufacturing, communications, and more. When you move here, you may just find your customers and suppliers waiting.
Are you looking for a location with potential, growth, great workers, accessibility, and a business-friendly culture and tax structure? You may just find what you are looking for in a new business site in Lynchburg, VA. Book a consultation with us to find out why thousands of businesses already call this city home.  
{{cta('828989ee-8d1d-401b-bdd0-273d9f2b88b1')}}