CO.STARTERS is a nine-week program that equips aspiring entrepreneurs with the insights, relationships, and tools needed to turn business ideas into action and turn a passion into a sustainable and thriving business. Each week, the group of entrepreneurs will tackle another aspect of building a business – from creating a lean canvas business plan, to driving marketing and sales and learning how to scale.
Local professionals will lead the training modules and facilitating the CO.STARTERS curriculum. These facilitators will rotate leading CO.STARTERS cohorts several times a year.  
Meet the Lynchburg CO.STARTERS facilitators for the Spring 2018 cohort:
Natasha Coan
Natasha is the owner and head designer at Foraged & Cut Flowers based in Lynchburg, VA.  She graduated college with a degree in Interior Design and transitioned that into flowers. Natasha began her career as a DIY bride designing her own flowers leading to a job at a local flower shop to receive formal training and become the lead wedding designer. After several years of focusing on retail floristry, she was able to fulfill her dream of working on a flower farm, using the flowers grown there to continue designing weddings. When the farm owners announced their retirement in 2016, she began Foraged & Cut. Natasha loves being creative, baking, raising her chickens, and is obsessed with the Enneagram. Natasha is a gradute of the Fall 2016 cohort of CO.STARTERS. 
---
Stephanie Atkinson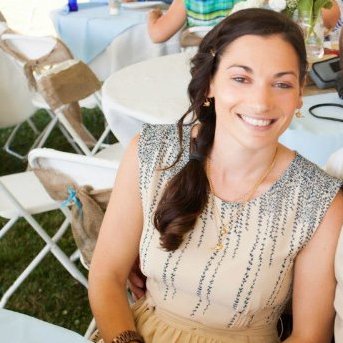 Stephanie Atkinson is a New Jersey native and 4th generation small business owner. Currently owns three specialty retail shops in the downtown area utilizing a combined 12 years of experience in managing, merchandising, planning, and marketing. Understanding that a successful 'shop local' experience involves community partnership Stephanie has leveraged her businesses to promote Lynchburg organizations. Believing that organic growth is the key to a uniquely successful Downtown Stephanie carries over 40 local artisans allowing her commercial spaces to be a springboard for their growth. As someone who listens to customers each day she knows that shoppers are moving away from 'big box' stores and  towards small businesses that provide a real shopping experience with unique products and a personal interaction. Stephanie is also a CO.STARTERS alumna from the Fall 2016 cohort. 
---
Past cohort facilitators include:
Elise Spontarelli
Web designer and business owner at GetCreative Web Design, Elise has a B.A. in Visual Communications from the University of South Carolina. Since starting her company in 2009, she has taken several business courses and technical classes through the local Business Development Center and online. She has been a member of several local nonprofits for a combined total of nine years, including the Junior League of Lynchburg (Executive Board Member), The Motherhood Collective and the Blue Ridge Montessori School PTO. You'll often find Elise giving her designs life by vinyl cutting, laser engraving, and silk screening. Elise is also a strong advocate of the maker movement, and Vector Space's fearless leader. Recently she enjoys watching her young sons discover the joy of making.
---
Jake Johnston
Jacob Johnston is a film producer, sports broadcaster and owner of the Lynchburg, VA based film company, Mirari Pictures. Since founding Mirari Pictures eight years ago, Jacob has produced six short films and a feature length film, entitled My House. In addition to his own films, Jacob has produced two other award winning films and worked on multiple feature films. When not on set, Jacob teaches video production at Liberty University and broadcasts college sports for ESPN3. Jacob has a degree in Broadcast Journalism from the University of Kentucky and a Masters in Communication from Liberty University. Jake is also a CO.STARTERS alum from Spring 2016. 
---

Kim Soerensen
As a native of Germany, Kim Soerensen earned a degree in Design, and moved to the USA in 1986. Stateside, she built a career in business management and design.  Kim put these aside for a time to raise her daughter. During this period, Kim became an entrepreneur, creating several successful businesses, including two of which she is locally best known for: DK Spaces renovates and leases residential properties. Omniterrum.com locates and obtains rare world globes and related planetary artifacts for museums and private collectors. This company received global media attention, including features in Oprah magazine, the New York Times, CNN and Russia1TV. Around Lynchburg, Kim is known as "the globe lady." Kim currently lives in Lynchburg, is married and has one daughter, a dog and three cats. She is heavily involved in the local cultural scene and current president of the arts council. 
---
Gloria Witt
Gloria T. Witt is a certified business and executive coach, expert trainer and facilitator with over 20 years of professional experience. Gloria is known for her ability to achieve results. She is the founder and CEO of Define Success Coaching & Facilitation. Gloria delivers a self-reflective, thought-provoking approach to address concerns with forward thinking actions.
---
Alex Johnston
Alex Johnston is a consultant for the Lynchburg Economic Development Authority and formerly the vice chair of the Lynchburg Planning Commission. She holds a bachelors and masters degree in business administration from Liberty University and is a graduate of University of Virginia's Sorensen Institute for Political Leadership. Alex served as a Family Support Worker with Healthy Families Virginia for several years, serving at risk mothers and children living in poverty. This work led her to a career in community wealth building and social innovation.
---
Anna Bentson
Anna is the Assistant Director of Economic Development for the City of Lynchburg. Anna's responsibilities include marketing, entrepreneurship, economic empowerment and business development for the Office of Economic Development and the Lynchburg Economic Development Authority. She is a graduate of the South Carolina Honors College at the University of South Carolina and is currently pursuing a Certificate in Creatives Cities and Economic Development at NYU and a Masters in Nonprofit Leadership at Lynchburg College. Anna has a strong background in nonprofit management and cause marketing with a passion for urban revitalization and creative placemaking. She loves old houses, bulldogs, collecting vinyl and reading time-travel books.  
---
Stephanie Keener
Stephanie is the Program Specialist at the Small Business Development Center at Central Virginia Community College, where she counsels small business and organizations in a four county region and the City of Lynchburg. She comes to the SBDC from Lynchburg's Virginia Main Street Program where she worked with small businesses and developed marketing and events for Downtown Lynchburg. Prior to that, she worked at the Blowing Rock, North Carolina, Chamber of Commerce as the membership and communications coordinator, working with artists and other small businesses. She is the former Director of the New Opportunity School for Women at Lees-McRae College, a residential program for Appalachian women who are ready to seek new education and skills. She has wide experience in social media marketing, event planning, and heritage and cultural attraction development.  She holds a Master's degree in Appalachian Studies and has a special interest in rural development and transitional economies. 
---
Jennifer Woofter
Jennifer is the founder and president of Strategic Sustainability Consulting (SSC). In this role, she draws upon more than 15 years in the fields of corporate social responsibility, ethical investing, and organizational accountability systems to help clients make the leap between good intentions and long-term sustainable performance. She has worked with more than 100 clients on corporate sustainability projects. She currently manages the SSC Consultant Network, an association of more than 650 professionals with expertise in virtually every area of sustainability. Jennifer is a recent transplant to Lynchburg, where she currently resides with her husband Bill and their two children, three cats, two dogs, two goats, and 11 chickens. When she is not wrangling her menagerie or traveling to far-flung locations for business, Jennifer enjoys reading, sewing, and exploring the downtown Lynchburg scene.
Do you have a great business idea? Apply for the CO.STARTER program!
{{cta('dd705c3c-6409-4493-bdc1-64ca1be8c454')}}