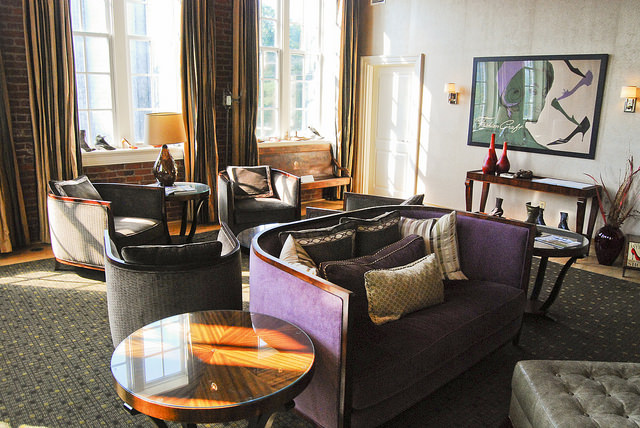 Lynchburg, VA is an old city, which is why many developers have turned to redeveloping older buildings instead of building on vacant lots. The result? A striking blend of old, rustic and industrial architecture with a modern and fresh flair that gives Lynchburg character.
Here are some examples of successful redevelopment projects in Lynchburg, Virginia:
Lesson one: Work with what you have (Downtown Residential Lofts) 
Over the past five years, lots of developers have invigorated downtown Lynchburg's residential community by building vibrant, modern and comfortable loft spaces. Using the original wooden beams, brick walls, sky-high ceilings, industrial metal doors and authentic piping, the converted factory-turned-loft apartments offer a warm, spacious and inviting space. Examples of successfully redeveloped loft buildings include: Midpoint Apartments, Cliff's Edge Lofts, The Parlor Lofts, City Market Lofts, McGregor Lofts, Red Point Lofts, and River Lofts.

Founded in 1888, the Craddock Terry Shoe Company was once the 5th largest shoe company in the world. One hundred and nineteen years later, John W. Craddock's great-grandson, an architect, decided to restore the historic William King building that his ancestor once owned and transform it into a luxurious boutique hotel. Now one of Central Virginia's most unique experiences,  the Craddock Terry not only retained a lot of the original wood, brick and stone industrial elements, but also brought in historical artifacts and a unique collection of shoe memorabilia to pay homage to the building's original purpose.
Lesson 3: Work with local government on funding and incentives (Seven Hills Food)
Lynchburg offers a wide range of local redevelopment incentives for developers, but there are also opportunities to receive grants from Virginia as well. A hundred years ago, there was a meat processing facility in Lynchburg called Dinner Bell. Left vacant for years, the space had all of the bare bones, space and ideal layout to be transformed into a top-notch facility. In fact, the redevelopment project garnered so much positive feedback, that Governor Terry McAuliffe approved a $250,000 grant from the Agriculture and Forestry Industries Development Fund. Seven Hills Food is also eligible for support from the Virginia Economic Development Partnership to support the company's employee training.
Lesson 4: You're not just restoring buildings; you're restoring community (Fifth Street)
Spanning just over a mile, Lynchburg's Fifth Street was a major commercial and transportation channel for Lynchburg for over two hundred years. And, for over a century, the street served as a key cultural hub for the region's African American community. In the 1960s, as more people moved to the suburbs, many businesses dispersed to the outer edges of Lynchburg, leaving Fifth Street abandoned.
The Fifth Street Community Development Corporation, working in partnership with the Lynchburg Economic Development Authority, the Lynchburg Redevelopment and Housing Authority, and Lynchburg Neighborhood Development Foundation, strive to centralize the community again and have rehabilitated a number of homes and buildings – some of which were slated for demolition.
The Fifth Street master plan is broken into three stages to improve the streetscape and utility infrastructure. The second phase was completed in 2013, and there are continuous redevelopment projects in College Hill, Garland Hill and Tinbridge Hill neighborhoods to develop an attractive gateway and vibrant neighborhood between Lynchburg's Downtown and Midtown. 
There are always opportunities to build a successful redevelopment project in Lynchburg. From urban lofts, funky restaurants and swanky hotels to large facilities spanning many acres – all it takes is a little imagination and elbow grease to convert a vacant space into a thriving business or cultural hub.