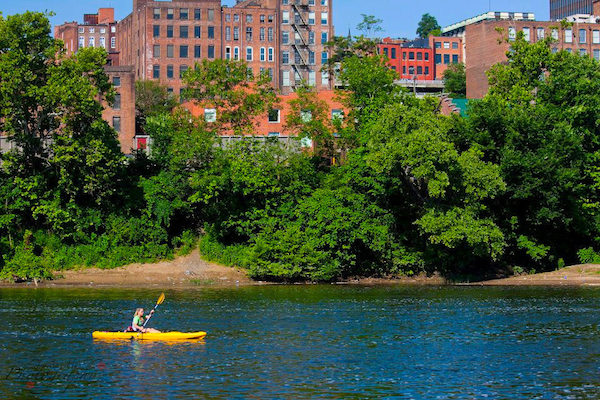 We advocate Lynchburg all day, every day at the Office of Economic Development. But, we are rarely asked why we decided to live and work for this city. Why Lynchburg? From its welcoming community, schools and pristine beauty to the cost of living – Lynchburg has a lot to offer its residents.
Here are some of our favorite things about Lynchburg:
What Marjette loves about Lynchburg
Marjette Upshur, the Director of the Office of Economic Development, is a Lynchburg native and grew up here with her parents and three brothers. She loves: 
The Business Community:
They are an accessible, engaged and committed group that cares about making the City a great place to live, work and play.
Lynchburg's Arts, Culture and History:
Local artists and cultural events are a big source of inspiration for me. This City's history and architecture are also so interesting. With each redevelopment project, we write a new chapter and revitalize a piece of the past.
The Education System:
Last night, I sat in the auditorium of my high school and watched my classmates' children perform. Their talent brought a tear to my eye. Similarly, the local colleges bring an energy, intellect and talent that contribute to our continued growth.
Lynchburg's Natural Beauty:
The parks, trails, rivers, mountains – they're each a gift that we must preserve for the next generation to enjoy
The Running Community:
The Virginia Ten Miler starting line reminds me of Lynchburg. Our local runners are just like our City: inclusive, strong and caring.
The Local Work Ethic and Compassion:
Our citizens have extraordinary work ethic, and are always trying to improve. Similarly, our volunteers work tirelessly to help the City continue to grow. The Lynchburg Economic Development Authority, for example, is a group of seven appointed volunteers who work hard to retain, expand and grow our economy. Their selfless service is something I love about Lynchburg.
What Anna loves about Lynchburg
Anna Bentson, the Office of Economic Development's Assistant Director, grew up in cities and towns across the Southeast and moved to Lynchburg in 2007 as the Director of Public Relations for Thomas Jefferson's Poplar Forest. She has also more recently served as the Executive Director of Lynch's Landing, Lynchburg's downtown revitalization nonprofit. Her favorite things about Lynchburg include:
The Welcoming Community:
There are many opportunities to get involved and meet new people. Lynchburg is also the perfect size for both families and young professionals. It's a big enough city, so that there are always a lot of things to do; but small enough, so that you always feel connected to the community. Our City is also a terrific place to raise a family. We have safe neighborhoods and all of the resources that a family would need.
Our Education System:
There are many post-secondary schools, which contributes to an educated and diverse community. Every year, more and more people travel from all over the world to study and work in Lynchburg, VA. This cultural diversity is what makes Lynchburg so inviting and welcoming to newcomers.
Lynchburg's Transformation:
Our City is in a stage of growth and it has a lot of potential. It's an old city with character and history, but our economy is driven by innovation and redevelopment. There are lots of ways to get involved and be part of this economic upsurge.
It's an exciting time to live in Lynchburg. Old buildings are being redeveloped; residents and businesses are helping to revitalize our urban center; and new businesses are starting up here each year.
What are some things that you love about Lynchburg, VA? Comment below!
{{cta('46039f39-390e-4aab-ae05-80a20b97ce69')}}