Since the 1800s, food trucks – or wagons, back in the day – have maintained a place in our nation's economy. But, in the past few years, that representation has steadily grown. In 2013, food truck sales represented 1% of sales in the U.S. restaurant industry across the board, and that economic impact is projected to quadruple to $2.7 billion by the end of 2016.
Locally in Lynchburg, food trucks are relatively new, but also extremely popular. As movements like Food Truck Thursdays, organized by The City of Lynchburg's Parks and Recreation, and Lynchburg VA Eats events, take the city by storm, more locals are relying on trucks for a quick, convenient and delicious meal. 
But, how does a food truck get started? And, how do they relate to local restaurants? In this two-part series, we will take a look at two local small businesses, which both currently own storefronts and food trucks.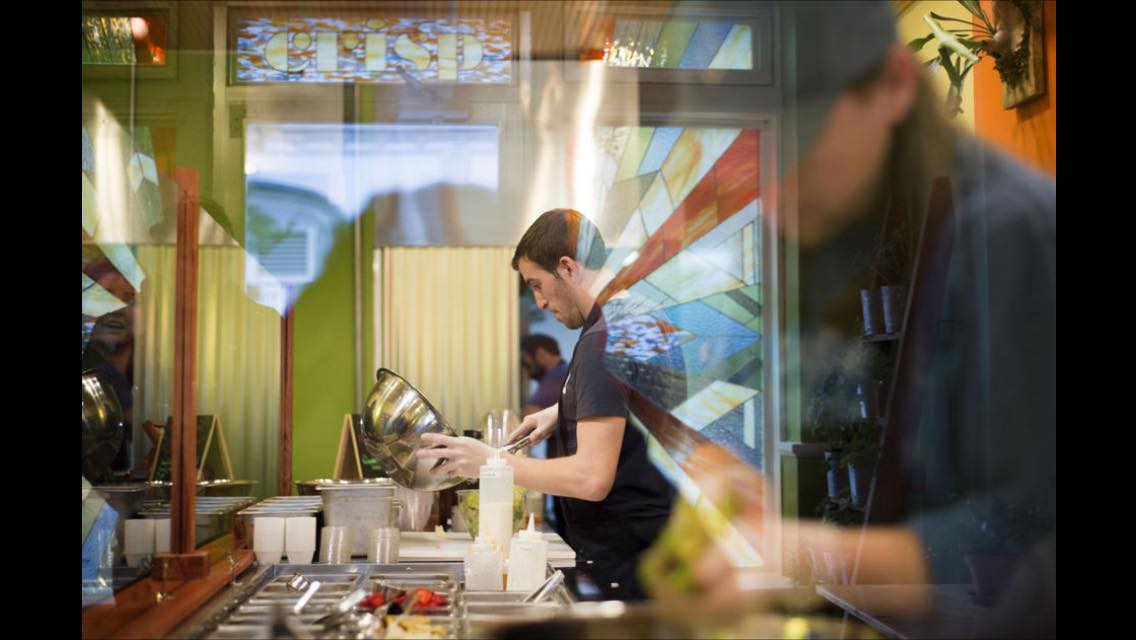 Canopy Food Truck Converts Into Successful Storefront, Crisp
After working the food truck scene in D.C. for several years, Sean Bailey and his partner Anne Dorman, moved to Lynchburg, where they created the Canopy Food Truck. With a creative internationally-themed menu and downtown location on Main Street, Canopy quickly became a hit. Not long after they hit the streets, Bailey and Dorman were approached by the former Allied Arts Building owners. One year later, they opened Crisp: a juice and salad bar. 
"We've seen an overwhelming response to what we're doing in Lynchburg," said Bailey. "The food truck landscape is just starting to come into its own here, which offers a lot of opportunity for creativity." 
When the couple decided to lease their storefront space on Church Street, they wanted to renovate the space while still reflecting the building's stunning art deco architecture. Like many entrepreneurs, they did a lot of the construction in-house. They were also able to take advantage of the Office of Economic Development's Local Redevelopment Program to assist with improvements to the space. 
What's next for Canopy and Crisp? 
The business owners plan to bring Canopy Food Truck back to the streets, and are also working on starting a food truck lot on 221 in Lynchburg later this year. This space would allow food trucks to consistently congregate in a high-traffic area. 
"Some food truck companies are hesitant to join together, because they think that it will just be added competition. But, what we've seen in bigger metropolitan areas, is that when food trucks can work together, people will come and it benefits the city's entire food truck environment." 
Thinking of starting a food truck or restaurant in Lynchburg? Bailey has one piece of advice: 
"Be interesting, be creative, and be exciting. You don't need to do expensive things, but you do need to do quality work, and it's only going to get better and bigger from there." 
Looking for a local food truck? 
Check out Lynchburg VA Eats to find out where your favorite trucks are located this week, or check out their websites: Cheesy Rider, Mama Crockett's Cider Donuts, Taco Shark Food Truck. Uprooted, T&E Catering, Strites Donuts #6 Lynchburg, Nomadic Bagel C. (Formerly The Canopy Food Truck), Code Fresh Food Truck, Centra, Blueridge BBQ Shack, Smoke Ring BBQ, Pok-E-Joe's BBQ, Mi Papa Authentic Mexican grill, El Cabrito's, Maylynn's Creamery
{{cta('e65b0239-37c2-475e-a2f9-c387b8e9f6e6')}}