The Lynchburg EDA proudly supported the recent Lynchburg Maker Faire as a Lynchburg Innovation Event. On Sunday, March 26th at Randolph College, this free event included family friendly with activities for all ages of children and adults. "The Maker Faire is really a celebration of making. We felt like it fit really well with SciFest – with what they already do with the hands-on learning," explained Elise Spontarelli, Executive Director of Vector Space in an interview with Living in the Heart of Virginia.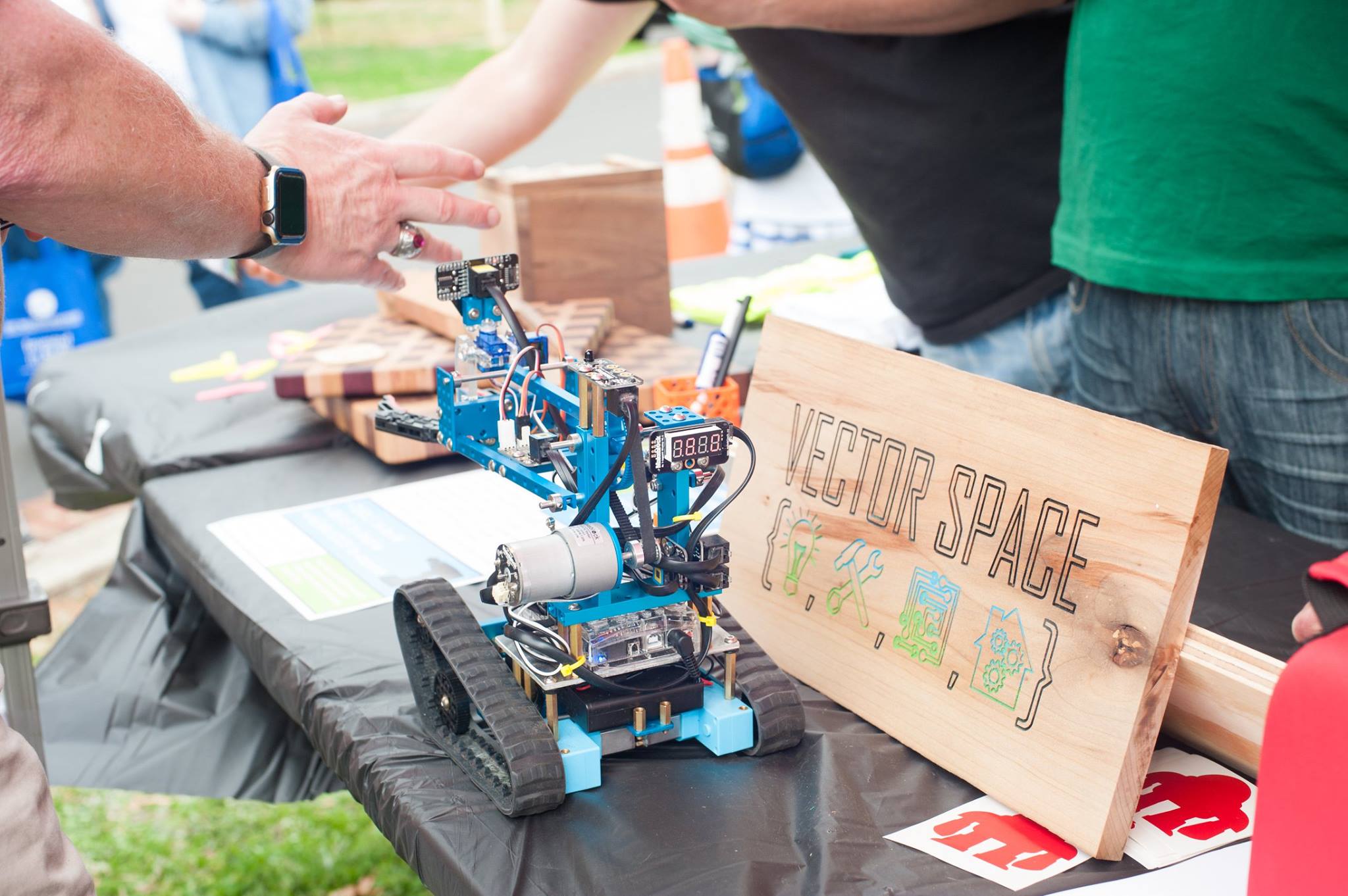 Spontarelli and Peter Sheldon, Professor of Physics and Director of the Center for Student Research at Randolph College correlated the two events by highlighting hands-on discovery. Both groups celebrate interactive learning and saw opportunities for adults, youths, and children to experience the joy of knowledge through this Mini Maker Faire. The event featured hands-on activities, amazing exhibits, locally made products, food trucks, and group build projects.
Mini Maker Faire Activities
Drones

Robots

Textiles

3D printing

Community Art

DIY Projects

Workshops

Vendors

Show & Tell

Food Trucks

And more!
Maker Faire Partners
We are All Makers
The Lynchburg Mini Maker Faire brought the first event of this kind to our area in partnership with the national movement started by Make: magazine from Maker Media. The publication, and the related movement, promotes "…the do-it-yourself mindset to all the exciting projects in your life and helps you make the most of technology at home and away from home." Similarly, Vector Space celebrates these values through their "…4,000 feet of space for individual and group work, large gatherings and events, messy and loud power tool operation, and quiet and focused work sessions." You can peruse their list of tools, classes, and upcoming events on the Vector Space website.
As an organization, Vector Space purposes to bring together people who want to explore science, technology, engineering, art, and math. Within the space, students, children, professionals, and hobbyists can collaborate, invent, discover, and build the projects that interest them. Through these projects, learners can see the connection between their personal curiosity and the principles behind academic concepts. Therefore, Vector Space carefully selects instructors who can inspire participants to both expand their practical knowledge and work through challenging projects.
Lynchburg Innovation Events
Many businesses start or expand through inspiration from events sponsored or hosted by Opportunity Lynchburg. Because of this, we at the Lynchburg EDA place great emphasis on events and activities that promote innovation within our community. In 2016, hundreds of Lynchburg business professions enjoyed an Innovation Week featuring a wide range of learning and networking opportunities. Local businesses provided keynote presentations and workshops such as a creative design workshop with developers from 18F, a screen-printing workshop from Vector Space, and a coder meetup from eDocument Solutions. Rising from this success, the Lynchburg EDA continues to promote, sponsor and support events that highlight innovation and build opportunities for local business. Just this year, we have supported the following events:
Going forward, we will continue to host, support, and sponsor events that promote innovation within our community. Additionally, we have created programs and developed tools to help aspiring business owners reach their full potential.
The Road from Inspiration to Business
Throughout the year, the Lynchburg EDA supports local entrepreneurs by providing training and classes. For example, our CO.STARTERS program equips aspiring entrepreneurs with the insights, relationships, and tools needed to turn business ideas into action and turn a passion into a sustainable and thriving business. Businesses like The Craft Crucible, Way Crunchy, and Golf Park Coffee put their dreams into action with assistance from the courses. By bringing together facilitators with a passion for business and an understanding of real-world challenges, the program assists with the early steps of business.
CO.STARTERS Facilitators
Kim Soerensen, entrepreneur and business owner

Gloria Witt, founder and CEO of Define Success Coaching and Facilitation

Alex Johnston, consultant for Lynchburg EDA

Anna Bentson, Assistant Director of Economic Development for the City of Lynchburg

Stephanie Keener, Program Specialist at the Small Business Development Center at CVCC

Jennifer Woofter, founder and president of Strategic Sustainability Consulting
Similarly, the Launched in Lynchburg platform features videos from local entrepreneurs as they explain their journey to success. These videos illustrate the pattern of growth and the skills required to bring a business to life. For example, Carl Matice of Altus Chocolate details the moment when he understood how best to distribute his products through a storefront. Similarly, Ryan Ford of Seven Hills Food Company relays his journey to revive an old abattoir with modern software and hardware to make their meat processing safer and more efficient. These stories, and topical resource videos, make the platform the ultimate source for startup advice and helpful tools in Lynchburg, VA.
These programs, platforms, events, and tools are all available when you stay connected with the Lynchburg EDA. To stay up to date on our programs and events, follow us on Facebook, Twitter or LinkedIn.