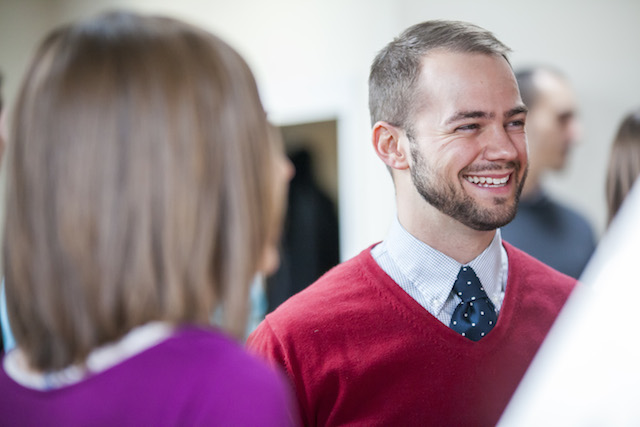 This spring, 120 entrepreneurs from 32 states and Puerto Rico graduated from the Babson Cohort of Goldman Sachs' national entrepreneurship program. The 10,000 Small Businesses initiative helps business owners create jobs and economic opportunity by providing access to elite educational opportunities, capital and a variety of business support services. 
The 10-week intensive training started in February. This year's group of business owners represented $260M in revenues and nearly 3,000 jobs in a wide range of industries across North America. Designed to nurture growth, the program selects entrepreneurs who have: 
Been in business for over two years
Have at least four employees
One local entrepreneur, Dustin Slightham, was selected from thousands of applicants and successfully completed the program in April. Raised in Toronto, Canada, Dustin moved to Lynchburg for university after receiving a hockey scholarship at Liberty. He stayed in Lynchburg after graduation to build a family and to develop a local award-winning web development and marketing agency, Carrot Creates, which is now a sub-group of Hill City Ventures, a local SaaS marketing and sales engine. Over the course of the program, Dustin spent two weeks in Boston, MA with his peers and mentors, where he developed and pitched a growth plan that outlines key market opportunities, feasibility analysis, financial management, leadership, negotiations and effective marketing. 
Here are some of Dustin's insights on his Babson training:

Q: What was your biggest takeaway from the training?
Having support from other business owners is absolutely critical. Sometimes you can be so focused on leading the business, that it gets lonely. Having a support network of like-minded individuals who can relate to what you are going through is vital. I found this at Babson and have built life-long friendships.
Another takeaway, which was rather disruptive and I acted on quickly, was something that Bob Hacker, who grew a $1B business, said in a lecture on corporate vision. He said that "If a misalignment in the corporate vision exists between managing partners, it will kill a business faster than you would think." This caused us to realign our goals internally, and ultimately move towards our new business model at Hill City Ventures.
What were some of the most important connections that you made?
There were several of them. My core group of six continue to meet regularly. Also, the group of folks that hale from the East Coast have agreed to regular reunions in Washington DC. Some of these relationships have meant new revenues; while others have led to strong industry insights.
Would you recommend the program to other local entrepreneurs?
Absolutely – I just recommended it to another local business owner. It is totally worth it!
Throughout the training, you met peers with competitive businesses from cities across the continent. After seeing how businesses have grown elsewhere, how confident do you feel in your decision to start a business in Lynchburg?
Being in a community that enables the entrepreneur, is imperative. I find that Lynchburg is well positioned for this. There are programs and support from a variety of organizations that can help startups get through those initial, brutal, years. Another strategic advantage is the cost of living. You can live on a lot less (which my wife and I did for years), while establishing a business.
Based on Dustin's positive experience, we highly recommend that other local entrepreneurs take advantage of Goldman Sach's educational resources and 10,000 Small Businesses program.
{{cta('e65b0239-37c2-475e-a2f9-c387b8e9f6e6')}}