Whether you are talking to potential investors, colleagues, friends, distributors, or leads, learning how to condense your message and highlight what's important is a skill that every entrepreneur should master.

Your business pitch is your story. It should be short and compelling, fact-based and visionary. Certainly not the easiest thing to do! Alex Johnston, founder of Cities Reimagined in Lynchburg, Virginia, shares her tips for developing a great business pitch in a 2:00 minute video on Launched in Lynchburg. Launched In Lynchburg is a web portal designed to inspire, educate and connect local entrepreneurs and professionals. All of the content is generated by the local business community, for the local business community.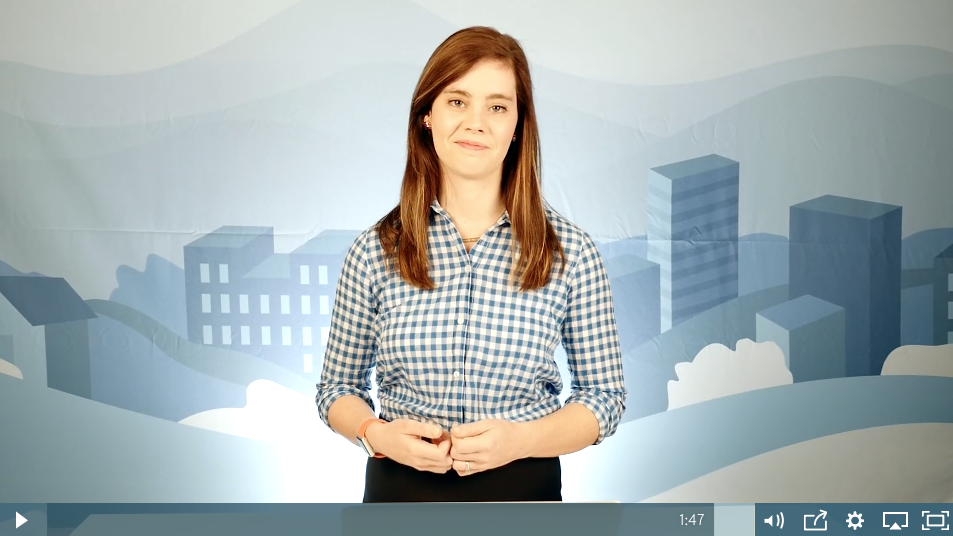 "By failing to prepare you are preparing to fail." – Benjamin Franklin
Less is more.
The best pitch is short, sweet and to the point. If your friend or colleague doesn't understand your business in a short amount of time, your customers won't either.
Don't guess.
Inspire confidence with facts, not fiction. Test your business's viability on whatever budget you have. Talk to as many customers as you can.
Be real.
Excite your investors but be realistic about your projections. Give your best case, moderate case and worst case for business.
Ease in.
Demonstrate that you can walk before you can run by showing small step-and-repeat business models that can lead to growth.
Believe it.
Share your vision and genuine passion.
CO.STARTERS in Lynchburg
If you're looking to develop and test your own business pitch, then the CO.STARTERS program in Lynchburg might be right for you. CO.STARTERS is a nine-week program that equips aspiring entrepreneurs with the insights, relationships, and tools needed to turn business ideas into action and turn a passion into a sustainable and thriving business.
During CO.STARTERS, you'll have the opportunity to work with your peers to develop and fine-tune your idea, critically examining every part of it and tweaking your next steps through real-time feedback from people in the community. Over the nine weeks, we cover the following topics.
Week 1: Knowing Yourself (Assumptions, Working Styles, Team Building, Obstacles)
Week 2: Knowing Your Customer (Problem, Solution, Benefit, Competition, Advantage, Customer)
Week 3: Getting the Relationship Right (Marketing & Message; Getting, Keeping & Growing Customers)
Week 4: Building the Model to Scale (Starting Small, Distribution, Revenue, Typical Sale, Price)
Week 5: Strengthening Your Structure (Business Structures, Licenses, IP, Hiring)
Week 6: Discovering the Bottom Line (Startup & Ongoing Needs, Fixed & Variable Costs, Break-Event Point)
Week 7: Accounting for Growth (Break-Even Point, Sales Projections, Cash Flow, Accounting)
Week 8: Planning for the Future (Raising Capital, Growth Plans, Goal Setting, Pitch Prep)
Week 9: Pitch Night/Sharing Your Story
Learn more about CO.STARTERS and register for our next cohort beginning Spring 2017.
More Resources
If you just want to fine-tune your business pitch, there are a number of other useful resources available. Check out these insights in how to hone your business pitch from Harvard Business Review, Fast Company, Forbes and more.
6 Steps to the Perfect Pitch – Entrepreneur
I remember thinking, "How hard could it be?" We were obviously, naïve, foolish and delusional. (read more)
 Forget Your Elevator Pitch — What's Your Dumbwaiter Pitch? – Harvard Business Review
One of the biggest mistakes an entrepreneur can make — especially when speaking with investors, reporters, and potential customers — is to goof up his or her startup pitch. (read more) 
How To Craft a Winning Startup Pitch [INFOGRAPHIC] – Forbes
One of the biggest mistakes an entrepreneur can make — especially when speaking with investors, reporters, and potential customers — is to goof up his or her startup pitch. (read more) 
The Problem With Your Elevator Pitch—And How To Fix It – Fast Company
Five tips to dropping the phony facade and elevating your pitch so that you sound like a real person instead of a marketing automaton. (read more) 
And remember, you're not alone.
There are many in this community invested in seeing the entrepreneurial ecosystem thrive. Launched in Lynchburg is a great place to start connecting with others on topics ranging from human resources to hiring and accounting. When you're ready, the Launchpad provides a place where entrepreneurs can gain exposure and connect with potential investors. The first round of pitchers featured on Launched in Lynchburg all graduated from the CO.STARTERS entrepreneur training program.
{{cta('e65b0239-37c2-475e-a2f9-c387b8e9f6e6')}}